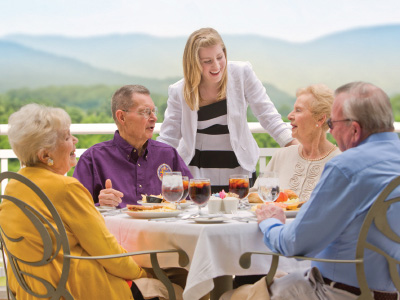 Meals made-to-order, with wellness always on the menu
Earlier this year, The Glebe introduced exciting improvements to our already stellar dining program that promised to enhance both the experience of dining at the community and the nutritional benefits of our menu as well. Now, residents enjoy more options of what they eat, and more importantly, how, when and where they eat it.
"The freedom to choose healthy, freshly made items elevates the entire dining experience for our residents," says Joyce Horton, Director of Dining Services at The Glebe. "In our dining room, meals can now be made to your own preference. We've brought a restaurant-style experience to The Glebe. And since everything is now cook-to-order, we're serving fresher food that doesn't spend hours sitting under a warmer."
The new menu also includes heart-healthy and sugar-free items. While these fresh selections offer more choice to our residents when they sit down inside our restaurant-quality dining room, those who prefer a more flexible meal schedule have reason to celebrate, too.
"Residents love the new express dining option as well," Horton says. "It's great for those in a hurry who don't want to make dinner such an event. Every day offers a new entree, salad, bread and a dessert, which is now made in-house with fresh ingredients. The residents love the flexibility of this option."
If these first few months of the new dining program are any indication, the improvements made have been a complete success.
"We all love it, especially the residents" Horton continues. "Attendance in the dining room has improved, and our take-out and delivery orders have gone up too. This was a big change for us, but we strive daily to give them a quality dining experience. Anything we can do to improve the lives of our residents, we're happy to do.