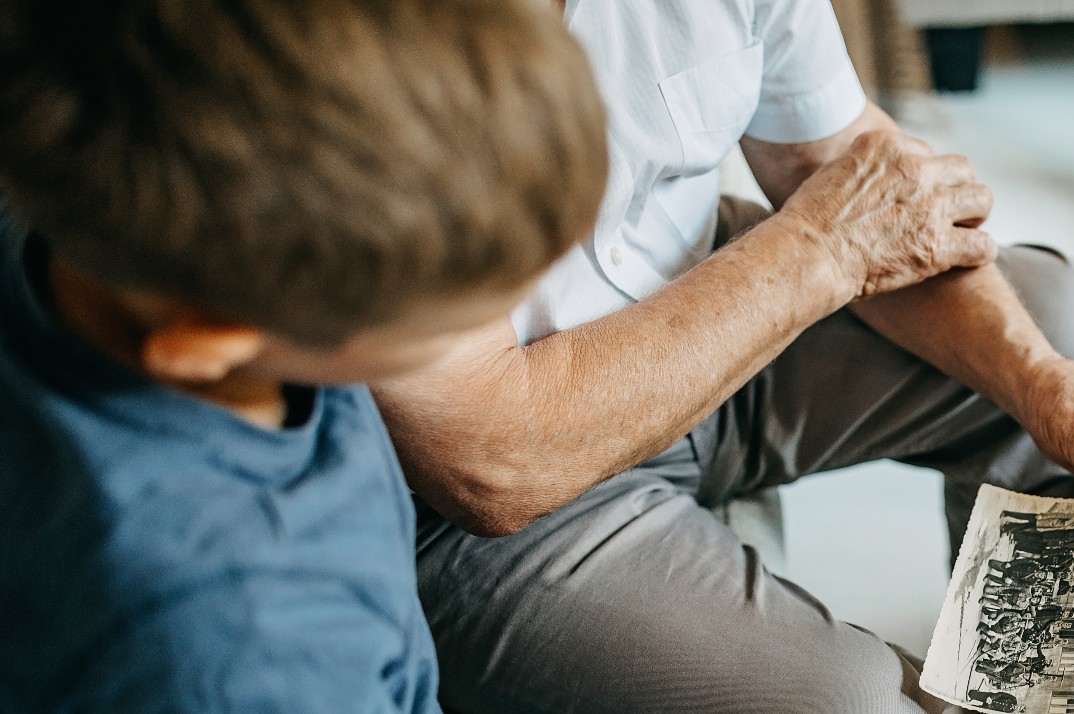 Best Ways to Share Memories This Holiday Season
The holidays are always a time for families to socialize, talk and reminisce. With all that's going on in the world, safely connecting with those you love is more important than ever. If you have a family member with Alzheimer's or other form of dementia, you may feel the need to be together even more profoundly then previous years. You also may want to hear all the old family stories again. If so, here are some suggested ways to share memories with someone who has Alzheimer's, whether you're getting together in person or virtually.

Depending on how you plan to celebrate the upcoming holidays, some of these suggestions will work better in person. However, with just a little work, you can also do most of them via Zoom or another videoconferencing application. Just make sure everything is arranged with your loved one or their caretaker beforehand. (Note: If you want to record/preserve your conversation, Zoom allows for your video call to be recorded.) As you make plans, here are some important considerations to keep in mind:
Avoid spotlighting: If your family member has experienced some cognitive decline, they may feel embarrassed when they get confused or can't remember an important detail, especially in front of a group of people. If the whole family is telling stories, try not to single out your loved one with specific detail-oriented questions.
Listening ears: To get the conversation started, you can share some of your memories, but try not to dominate the conversation. If you're a patient listener, even if your loved one struggles to find the right words at first or talks very slowly, your patience may be rewarded with a wonderful anecdote or memory.
Generally speaking: Give your family member the opportunity to share cherished memories with the people they love. Trying to get too specific about who, what, when and where details may just end up frustrating and embarrassing them
8 ways to share memories with someone who has Alzheimer's.
Picture this: Look through old photos together. Identify the people in the pictures and share any memories you have of the photo. If your loved one doesn't seem to recognize what's pictured, move on to another one.
Scrapbook: Collect and record memories associated with them. This may stimulate your loved one's memories of happier times and allow you to record their personal history for future generations.
Record videos: Use your phone to record family stories. Family members of all ages can enjoy doing this together. You'll have fun recalling these anecdotes, and everyone, including your loved one with Alzheimer's, will be able to enjoy watching the video over and over.
Old letters and greeting cards: Sharing messages full of love and well-wishes stand the test of time. When you read them again to someone with Alzheimer's, they can bring back positive memories and feelings.
Share family heirlooms: When objects that have been in the family for a long time are passed along, the stories associated with them get handed down too. Ask your loved one to share any possible memories of the object. They may remember some of its history and significance.
Get musical: Play music from your loved one's younger days. Familiar music can have a soothing, therapeutic effect.
Family tree: Map out your family's genealogy, including any information your loved one may still recall about previous generations. Take time to compile important information about your family's history.
Get cooking: Find a favorite family recipe and cook together. Many family traditions are often rooted in food. Since the sense of smell has the strongest and most direct connection to memory, specific aromas can trigger wonderful memories for your loved one with Alzheimer's.
Encouraging connection.
At The Glebe, our Chaplick Memory Care community features a small household model allowing residents to socialize in a safe and familiar environment. Plus, our Cornerstone Memory Care services empower self-directed living. If your loved one suffers from memory loss, we'd be happy to discuss your options with you. To learn more, contact us here.