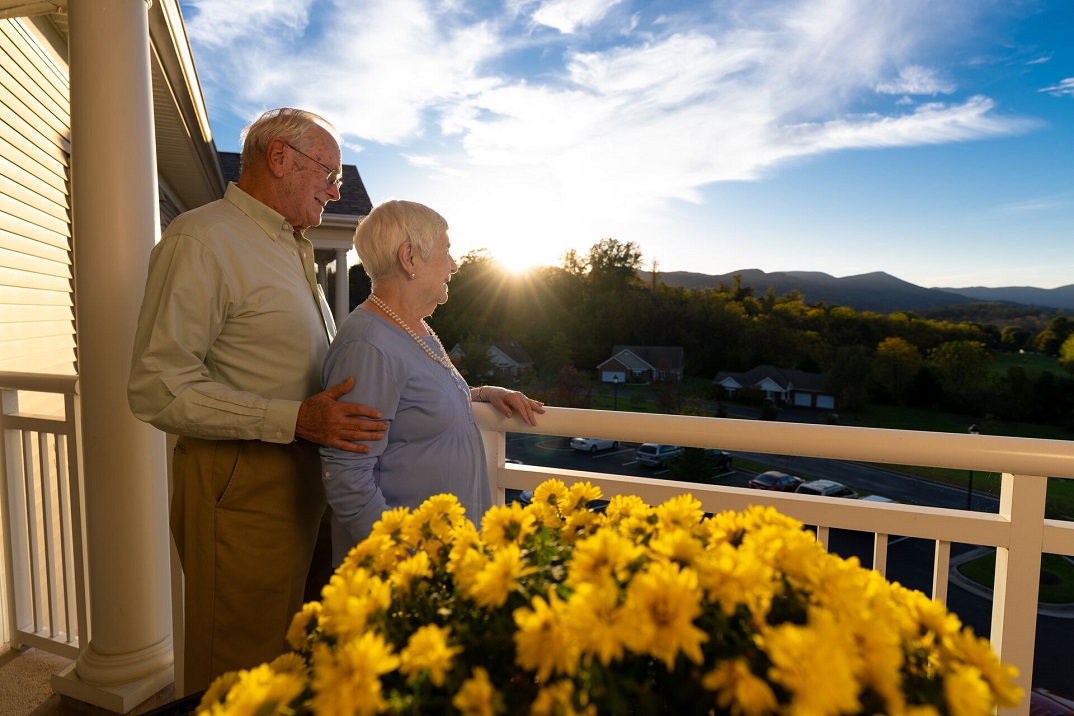 What are Smart Homes at The Glebe Senior Living Community
LifeSmart Available at The Glebe
At The Glebe, maintenance-free independent living is just the beginning. Today, seniors can enjoy our LifeSmart technology in their new independent living senior apartment or cottage.

Our smart home features include:

Google Nest Learning Thermostat and One Nest Temperature Sensor
3 Wyze Smart Bulbs
3 Wyze Smart Outlets
8-inch Alexa Show
Ring Doorbell Transformer
Ring Doorbell Pro
Smart Door Lock (on select new cottages)
What Is a Smart Home for Seniors?
Technology is making everyone's lives easier. Shopping, driving and socializing have all been touched by recent breakthroughs … and so has your home. Although we haven't quite attained the ease and convenience enjoyed by the Jetsons, today there are robot vacuums and smart speakers, lights and locks. In fact, there are so many devices available for your home, you're probably hearing the term "smart home" more and more.
But what is a smart home for seniors and how do smart homes help seniors? This blog post will look at some of the current smart home technologies and show you how they can add convenience to your life while helping you age more safely in the residence of your choice. 
Adding IQ Points to Your Home
Here are some of the things you can add to your home (or look for in a new home) to enhance how you live. As more and more people are looking for ease of use, companies have taken note. Generally speaking, you don't have to be tech-savvy to use these devices, although you may require some help in setting them up.
Smart door lock: Say goodbye to misplaced keys. You can replace your traditional door lock that requires a key with one that uses a smartphone app. You can even use them to provide remote access to friends and family. Or you can get an electronic lock with a keypad or touch screen.
Smart lighting: Let there be light! Smart lighting lets you control the brightness and even the light color with an app or — if they're connected to a smart speaker — your voice. No more fumbling in the dark for the light switch.
Voice control: Smart speakers have voice assistants that you can use to find information, play music, order food, video-call friends and family, adjust the temperature of your home, and turn on connected lights and appliances.
Motion sensors and alerts: These are an easy, hassle-free way to alert friends and family of a possible mishap. Some devices can tell when you've entered a room but then there's no subsequent movement. Others can detect if you've gotten up and out of bed and you're carrying on normally with your day. Some sensors can also detect when you've opened your cabinets, and there pill dispensers that can let family know you've taken your medication.
Health monitoring: Advances in technology have made it possible to monitor your health in ways that, until recently, seemed like science fiction. From medical alert bracelets to smart medicine cabinets, from emergency service alerts to motion sensors, it's easier and safer to maintain your independence while providing everyone with peace of mind.
The Glebe: A Smart Way to Enjoy Life
The Glebe combines 65 well-manicured acres and beautiful views of the Allegheny and Blue Ridge mountains with the latest smart home technology. Plus, as a continuing care retirement community with Life Care, we offer a full continuum of on-site health care, if ever needed, at predictable monthly rates. We also have a variety of contract options and spacious floor plans to choose from, so one is sure to fit your lifestyle and your budget. To learn more or schedule a tour, contact us here.