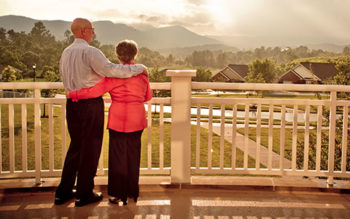 This fall, get away for a few days at The Glebe
When the leaves change and the weather cools, that's when the Blue Ridge Mountains really come alive. There's no better time of year to enjoy this picturesque setting, to wander its hills and trails, and to simply relax while breathing in crisp mountain air. Which is why there's also no better time to get away for a while and experience this incredible, independent living,  from The Glebe.
The Glebe Getaway is your invitation to enjoy a fun-filled and relaxing visit as our very special guests at The Glebe. Experience firsthand the kind of retirement lifestyle you could call your own if you choose to call our community home. Join us for a three-day getaway, or customize a unique stay that works best with your schedule. Upon your arrival, we'll provide you with detailed information about the area's most popular activities and favorite sightseeing destinations, including any special events that may be on the calendar right here at The Glebe.
The Glebe Getaway includes:
Accommodations in our guest home or apartment
Full access to all of our on-campus amenities
Complimentary breakfasts, lunches and dinners throughout your stay
Convenient concierge services
A welcome basket filled with delicious snacks and delightful refreshments to greet you upon arrival
In addition to all this, you'll also have an opportunity to sit down with one of our retirement counselors to learn more about retirement living and Life Care at The Glebe. Don't miss out on your chance to take advantage of this incredible opportunity, and, more importantly, to get away for a stay in the mountains!
Call 866-376-8990 to schedule your Glebe Getaway today.