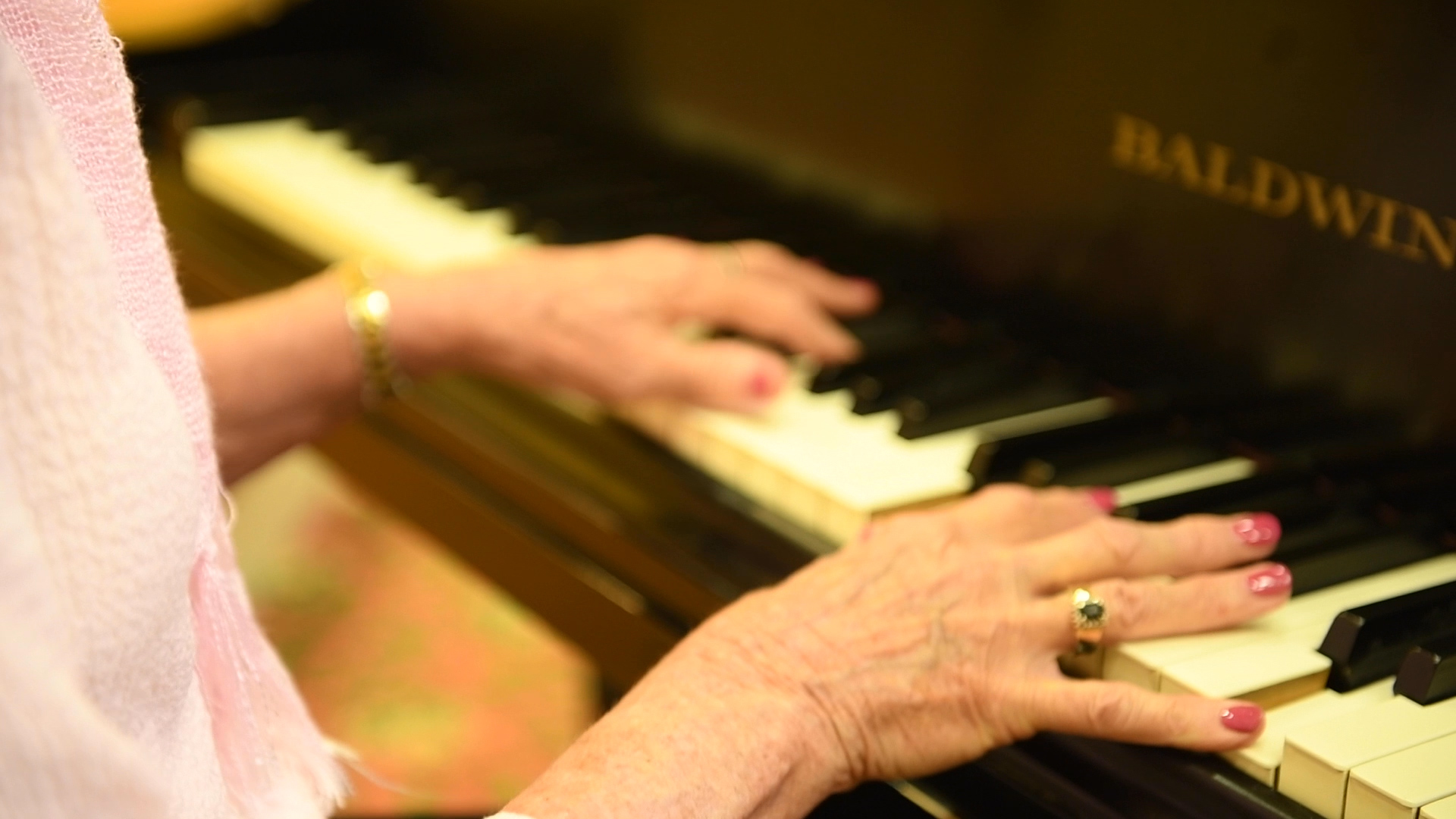 Just Keep Singing: Music and Memory
By Ann Lovell
NEWPORT NEWS, Virginia—Bernice Thomas* sits down at the piano. Her hair is professionally styled, as always, and her pink blouse gives her skin a healthy glow. Her smile is infectious.
"What do you want me to play?" she asks.
"Play a hymn," her daughter encourages. "Play 'Jesus loves me.'"
Thomas thinks for a moment. She places her hands on the keyboard. The music begins to flow from deep within her soul. Effortlessly, she moves to the next hymn, "How Great Thou Art," and over the course of the next 20 to 30 minutes, she plays a series of hymns, all without a hymnbook, all from memory.
Ironically, Thomas has Alzheimer's disease, a form of dementia that results in progressive memory loss and decreased thinking ability. The World Health Organization reports that dementia is a growing public health problem, affecting around 50 million people globally. Nearly 10 million new cases are reported every year.
Understanding the role that music can play in minimizing the effects of dementia can help families and caregivers seek out programs that enhance the quality of life of those they love, like Thomas, who are suffering from dementia, scientists say.
Thomas might not remember that she had her hair styled this morning. In a few hours, she might not remember that she gave an impromptu concert in the community room of her retirement community. But at this moment, the hymns she learned in childhood flow from her fingers like water from a spring.
ART, MUSIC AND MEMORIES
Scientists say this happens because the parts of the brain that process art and music are located near the places where memories are stored. Alzheimer's doesn't seem to affect those parts, according to studies.
The explanations may be deeper than neurological, writes John Swinton, author of "Dementia: Living in the Memories of God." Because of the spiritual and emotional attention that music enhances, the ability to remember and enjoy music when all other memories are lost indicates it is core to our identities — to the "eternal" sense of self that never leaves us. Theologians define that eternal sense of self as "the soul."
Through memory and imagination, people are time travelers, and "music is a vehicle that we use as we travel through time," Swinton writes. "Certain songs contain our memories. As soon as we hear them, we're whisked backward in time to situations, events, and people that were deeply meaningful to us and that remind us of things we have done and people we have loved."
JUST KEEP SINGING
Scientists have long known that music helps increase cognitive functions, including memory, speech, attention and verbal intelligence. A 2015 commentary by Carmela Maltrone and Elvira Brattico, published in the Journal of Alzheimer's Disease & Parkinsonism, notes that practicing music helps prevent the death of brain cells normally related to aging. Regular musical activities, like singing, also help reduce the risk of developing dementia in healthy older adults. Studies show when caregivers sing along, their quality of life improves as well.
"In a recent study, 10 weeks singing practice by both the patients and the caregivers positively affected not only the short-term and working memory of patients but even the quality of life of the caregivers," Brattico and Maltrone write.
In other words, singing is good for the soul, regardless of age.
THE BRAIN'S EXTERNAL HARD DRIVE
Music can also help pull a person out of the cognitive haze Alzheimer's creates, even in advanced stages, Swinton writes.
"Songs, music, art, dance and ritual actually function as modes of extended memory — that is, places where memory is stored is external to its normal location in the brain," Swinton writes. "They act as keys that can unlock emotions, feelings and recollections that would otherwise be inaccessible."
Music therapy for both musicians and non-musicians is not a new concept, and many senior living communities incorporate music therapy into their regular programming for Alzheimer's patients.
The memory care community where Thomas lives includes a piano that Thomas plays frequently. The community often invites musicians and singers to perform for memory care residents, and staff in the neighborhood often sing along or dance with residents during the performances.
"It's amazing to watch residents sing along to songs from the 40s and 50s," said one caregiver. "They remember every word."
To learn more about our new Memory Care neighborhood, The Cornerstone Memory Care, located at the Chaplick Center in Daleville, VA give us a call today.
The Chaplick Memory Care Neighborhood will open in September at The Glebe, a LifeSpire of Virginia continuing care retirement community in Daleville. The Glebe is now hiring for LPNs, MedTechs and CNAs for the new memory care neighborhood. MedTechs and CNAs are eligible for The Glebe's 30/40 program — work six hours and get paid for eight! Contact glebejobs@theglebe.org or call (540) 591-2105 for more information.
###
Ann Lovell is Corporate Director of Communications for LifeSpire of Virginia, which manages four continuing care retirement communities and one continuing care at home, including The Culpeper in Culpeper, The Glebe in Daleville, The Chesapeake in Newport News and Lakewood and Lakewood at Home in Richmond.