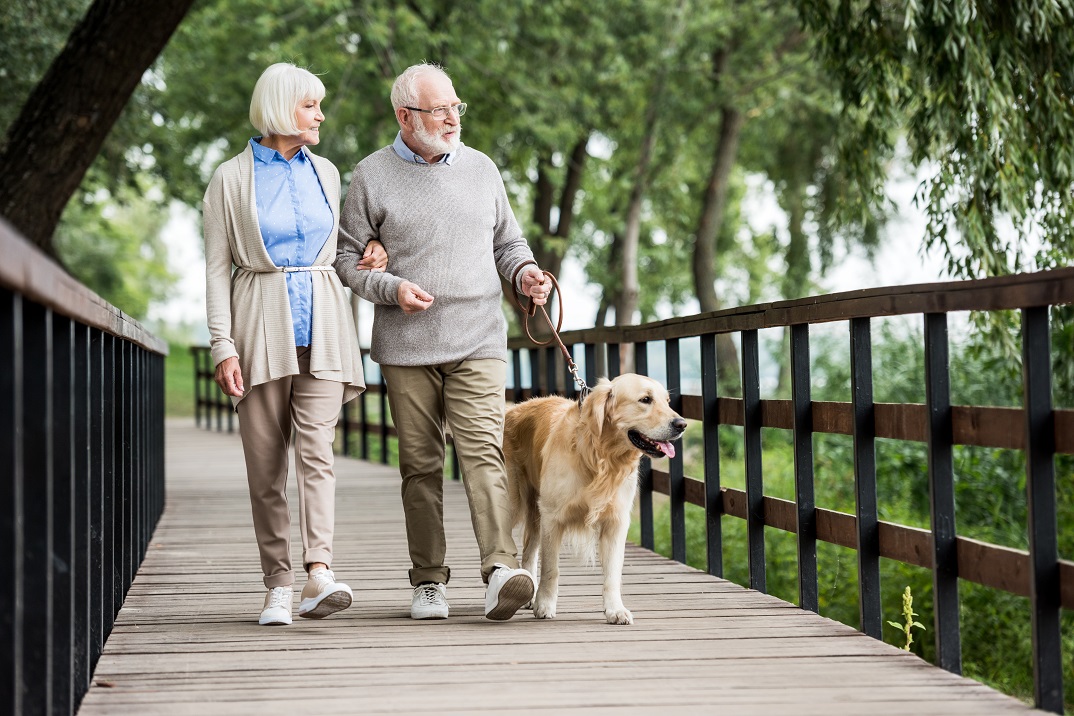 Did You Know Senior Living Communities like The Glebe Allow Pets?
It's no wonder everyone from babies to seniors loves dogs. They provide unconditional love and acceptance. They can help keep us active and are a great way to meet new people. So if you're considering a move to an Independent Living community and want to bring your furry friend, you can. That's because many communities that offer independent senior living — like The Glebe — are pet-friendly. In fact, moving to a dog-friendly retirement community is the perfect way to explore the area and make friends. This blog post will offer some pet-friendly things to do in Daleville, VA, that are sure to keep your four-legged friend's tail wagging. 
Dog-friendly things to do around Roanoke, VA.
When you live in an area as beautiful as Virginia's Blue Ridge Mountains, there's more to do than you can shake a stick at.
Parks, dog parks and trails.
Before heading out to be around other people, dogs and area wildlife, keep these things in mind:
Keep your dog on a leash unless you're in designated areas where they can be off leash.
Clean up after your dog, and pack out all trash and waste.
Stay on designated trail areas.
Be respectful of native wildlife, travel quietly, and keep your distance.
Be considerate of other hikers along the trail, and remember that some people may be uncomfortable or nervous around dogs.
Make sure your dog is properly vaccinated, licensed and identified.
Now that you're both ready, here are a few ways to get some exercise and take in the area's beautiful views.
Mill Mountain: The 568-acre Mill Mountain Park features 10 miles of multiuse trails, including Roanoke's highest point (1,703 feet), the Roanoke Star, picnic areas, two scenic overlooks, access to additional trails, the Mill Mountain Zoo, and the Mill Mountain Discovery Center.
Explore Park: Explore Park offers 14 miles of trails in its 1,100 acres along the Roanoke River. You can also access the river for fishing, canoeing and kayaking at Rutrough Point at the end of Rutrough Road, or along the River Walk Trail.
Roanoke Valley Greenways: These nine scenic greenways welcome dog walkers, hikers, bikers and more.
Roaring Run: This is a fun, family-friendly hike that leads to the stunning Roaring Run Falls, as well as unique footbridges and rock walls.
Highland Dog Park: The Highland Dog Park is located in Roanoke's Historic Old Southwest Neighborhood and is a 1-acre fenced space for dogs to play. There are two divided spaces to accommodate large and small dogs.
Salem Rotary Dog Park: On Indiana Street in Salem, this dog park offers a space to help your dog exercise and socialize. The park is open daily from 6 a.m. to 10 p.m. and includes designated spaces for large and small dogs.
Thrasher Dog Park: The Thrasher Dog Park in Roanoke features 1 acre of fenced space for dogs, which includes Mutt Mitt stations for owners and dog fountains for drinking. There are designated areas for large and small dogs.
Bridgewater Marina at Smith Mountain Lake: This local outfitter offers pet-friendly boat rentals for you and your pooch and even has life jackets for dogs of all sizes.
The Glebe: A paw-some place to live.
Situated on 65 well-manicured, pet-friendly acres, The Glebe offers beautiful views of the Allegheny and Blue Ridge mountains so there's plenty of wide-open spaces for both of you to enjoy. Of course, we're also perfectly located to offer fun of the two-legged variety. But don't take our word for it; hear what our residents have to say about life at The Glebe.
If you and your furry friend want to experience The Glebe for yourself, learn how you can come for a visit with our Glebe Getaway by contacting us here. We can show you the doggone best floor plans that you and your dog are sure to love.